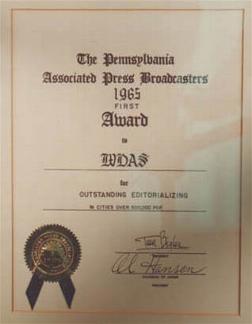 From 1950 to 1979
WDAS AM-FM Radio won hundreds of the most prestigious awards in broadcasting, news and public affairs. Among the long list are the Armstrong Award, Valley Forge Freedoms Foundation Medals, Sigma Delta Chi, dozens of Associated Press Awards including a triple play in the 1962 AP awards, when WDAS swept first-place honors in all three major categories, the only station in the city to do so. Not bad for the little independent against competition from CBS, Westinghouse, Metromedia and numerous other major networks.
The work of these legendary communicators lives on today with new generations of writers and filmmakers who are inspired by the history and spirit of the WDAS story.
---
---
National History Day Winners, from Philadelphia's Masterman High School, won city and statewide competitions with a documentary on WDAS History
Filmmakers Katie Breiner, Laura Garcia and Sam Kopansky
Their work was featured on KYW News Radio,
The Philadelphia Daily News and was commended in a House resolution in the Pennsylvania Legislature.
---
©opyright 2007-2015 Wynne Alexander All Rights Reserved
Photos Copyright Bob Klein Archive unless otherwise specified